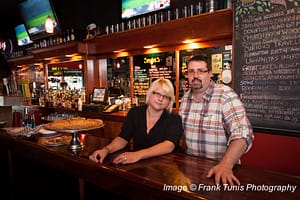 ​Putting Pittsburgh Pizza on the Map: The Caliente Story
My first day in the pizza industry was in 1996 at a pizzeria in Hampton Township, not far from my home. While making my very first delivery, I wrecked my car. Fortunately, my mother was able to lend me hers so I could finish the shift and save some face. Rather than get me down, though, the moment taught me two important lessons: Keep doing your best, even when life throws obstacles in your way, and you can always rely on your family.
We follow those lessons here at Caliente Pizza & Draft House, where roadblocks don't stop us from following our dreams, and everyone is part of our ever-growing family. That includes you, too.
The journey I took from being a wide-eyed — if not exactly graceful — delivery boy to leading a globally known, award-winning shop didn't happen overnight. It included long nights on Pittsburgh's famously confusing roads, hard experiences and valuable insights from managing corporate chain stores, a side gig as a mailman and juggling five jobs at one time for years. And it wasn't all struggle, as I made lifelong friendships in this wonderful industry.
Over the years, I started a family with my wife, Angie, who I met through a connection in the first pizzeria I worked at. We had two children and knew that eventually all my hard work would pay off. Through it all, I knew that I loved pizza. I knew I wanted it to be my life — and on my own terms — so, truly, it wasn't a hard choice to open Caliente's first location in 2012 which started on a handshake with no money.
Now that I had a deal in place, my wife and I got to work. Our families were so excited we were about to get our shot at our dreams. They came in every night and doubled as our taste testers. We crafted our recipes from their advice, my professional know-how and personal love for a good slice of pizza.
The food was there, but everyone opens a pizza shop and says that they have the best pizza and I did not want to be that guy, so we still needed a way to stand out. We needed beer.
Not for ourselves, of course — we had a business to run — but we were able to corner the craft beer market, becoming known as the place to go for hard to source specialty drafts and bottles of brew from around the country and across the globe.
And then, people started to notice the pizza. After we became recognized as the best new pizza place in the city, Caliente exploded. We took our product on the road to the industry events, my childhood friend joined our team (bringing years of fine-dining expertise), and not uncoincidentally, we won the Best Pan Pizza in the World with the Quack Attack duck pie at the 2016 International Pizza Expo. A year later, another GM within our company won the World's Largest Pizza Stretch, and the list goes on and on with too many awards to count. (OK, one more: The Mee-Maw was named the Best Pizza in America in 2019.)
I guess you can say we made it, but we're not going to rest. We'll keep doing our best to get better and keep Pittsburgh on the global pizza map, as we now also represent our city with The World Pizza Champions Team, made up of elite pizza makers from all over the world. Caliente's just getting started.
Oh, and welcome to the family.
NIck