The summer months are here and the forecast is officially hazy at Caliente Pizza & Draft House! All month long, we'll be paying tribute to arguably the most polarizing beer style going today: the hazy IPA. These beers have changed the craft beer industry, bringing soft, juicy, hop-forward offerings to the forefront and introducing a new style of beer that many people have fallen in love with. Brewers across the country have worked hard to push the envelope and make their own takes on this style stand out, creating a plethora of options that IPA fans are going crazy for.
All June long, the hazy IPA takes center stage in Bloomfield, Hampton, Mount Lebanon, and Aspinwall. 10 taps at each location will be pouring offerings from a number of well-known, highly-respected breweries from across the country. No matter which location you visit, you're going to find a juicy brew with your name all over it!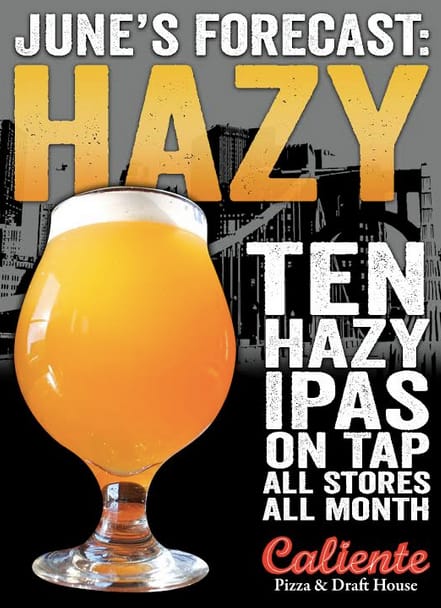 Over the River and Through The Woods…
There's something special about the way Grandma makes her pizza. And to pay homage to her culinary excellence, we are rolling out six pizzas Grandma, Grandpa, and everyone else in your family are going to drool over. Cross a river. Go through a tunnel. Go through the woods if you have to, but get to one of our stores today and experience a Grandma Pie!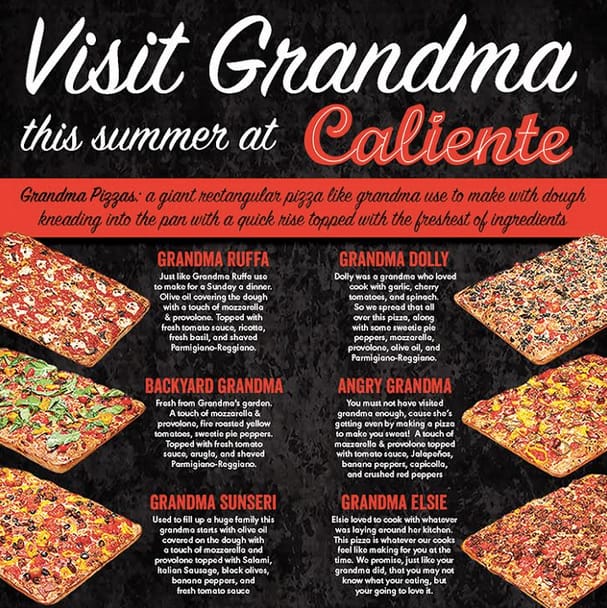 Celebrating 30 Incredible Years
Happy Anniversary, Great Lakes Brewing Company! Our friends from Cleveland, Ohio are turning 30 years old this year and we can't wait to put on our party hats and help them toast to many more. Great Lakes is responsible for some staples in the craft world, with offerings including Eliot Ness, Edmund Fitzgerald, Dortmunder Gold, and Burning River. In addition, Great Lakes rolls out some exceptional seasonal releases every year, such as Lake Erie Monster, Chill Wave, Blackout Stout, and Nosferatu.
We were with them when they turned 25 and the 2018 celebration will be no different. On Friday, June 15th, all four of our locations will be home to a Great Lakes celebration! Enjoy Great Lakes beers in bottles and on tap, meet representatives of the brewery, get your hands on some swag, and show your support for one of craft beer's trailblazing entities.
Three Rivers 1 Lake Rye IPA
We've done it again. Our crew joined forces with a big-time brewery to continue producing our line of Caliente collaboration beers. This time, we made the trek to beautiful Lakewood, New York and brewed with Southern Tier Brewing Company. Lakewood is approximately 30 minutes from Erie and the Southern Tier brewery is minutes away from gorgeous Lake Chautauqua, a tremendous summer time spot you need to put on your priority list.
The beauty of Lake Chautauqua combined with the stunning pride we feel for our three rivers here in Pittsburgh, it seemed only fitting to name our new collaboration Three Rivers 1 Lake. This offering is a Rye IPA and will be making its debut at all four of our Caliente locations on Friday, June 22nd. We can't wait to roll out our latest collaboration for you to enjoy this month!
A big congratulations to Katie Henry! Her video submission last month won her the chance to travel to Lakewood with us to help brew Three Rivers 1 Lake. And thank you to the team at Southern Tier for hosting us!