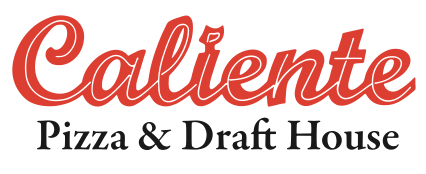 Award-winning pizza restaurant announces the changing Grandma Elsie pizza
PITTSBURGH (October 1, 2020) – In honor of National Pizza Month, Caliente Pizza & Draft House is announcing that they are featuring 30 new gourmet pizza recipes in six weeks.
Grouped with the other grandma-style pizzas on the menu, Caliente's Grandma Elsie is for pizza lover and food adventurers of all kind. When ordered, customers are surprised with a different specialty gourmet pizza recipe, but Caliente's chefs are taking their experimentation to the extreme, with a new recipe per week at each of Caliente's five locations over the next six weeks at.
Grandma-style pizzas are large rectangular pizzas, but the dough separates them from similarly shaped Sicilian-style pies, being kneaded into the pan with a quick rise. The toppings, then, are chef's choice.
The idea behind the weekly recipes plays two functions: it pays homage to owner Nick Bogacz's grandmother, who proudly created unique and delicious meals each night for her family. "I can't remember ever having the same meal twice at Grandma Elsie's," Bogacz said.
It's also a way for Caliente's award-winning chefs to practice new recipes and showcase their talents. Unfortunately for pizzaioli around the world, competitions have been put on a halt due to travel and social distancing restrictions, forcing the Caliente team to stay at home this year.
"If we can't go to Italy to defend our World Pizza Championship and Best Pizza in America titles, we'll bring the inventive creativity to Caliente," says Bogacz. "Our team loves to explore new recipes and our customers love to see what we come up with, so we figured National Pizza Month was the perfect time to do it."
With 30 new pizzas through November 14, Caliente challenges its customers to try each recipe. Can they keep up?
To learn more about the Grandma Elsie and other menu items, visit their website here.
ABOUT CALIENTE PIZZA & DRAFT HOUSE
 Caliente Pizza & Draft House is an award-winning, locally owned and operated pizza restaurant known for its roster of gourmet pizzas and craft beers. With five locations in the Pittsburgh area, Caliente is also known internationally as three-time World Pizza Champions and represents Pittsburgh on the World Pizza Champions Team. In 2019, Caliente Pizza & Draft House earned the title of Best Pizza in America.